Just, Journey
I've done a lot of things alone. That's part of being independent. It's also part of being stubborn, as I refuse to let that "aloneness" be what stops me from doing what I want. From seeing places I dream about. From experiencing things I can't quite yet imagine. It's sometimes scary and annoying being in charge of yourself, making decisions that you're entirely responsible for, and having no idea how things will go. But what I think is worse is not doing things because you fear the same.
So I joined my second Contiki to see a part of the world that has always been WHERE I HAD TO GO since I was old enough to start dreaming of such things. And I went alone.
That first night in London, after missing a recently rescheduled tour kickoff, I met a group of others who hadn't gotten the message either. And isn't it funny, how that first night, before I had spent a full 24 hours abroad, my worst fear of being lonely was quelled? Just like that?
England
Liverpool - York - Lake District
Most notably during my time in England was our day spent in the Lake District, where we started with a beautiful morning cruise before embarking on our individually-chosen adventures.
When I travel, I say yes. In life, I overthink. I over-plan. I second guess. It's exhausting. Travel is an escape from myself. It's freedom to just be with #noregrets, as Contiki would tell you. So I chose the high ropes course. I had #plentyofregrets while up there, my legs wobbling, my breath labored, and my arms pinching the cables to my sides tight enough to leave bruises that would last for days. But it was something I had never done, and that alone was reason enough to do it.
By the time I got to the last course (after a wooooo-inducing zip line), I convinced myself I had done enough. I didn't need to do the last one (which was a horrible combination of a cargo net, swings, logs, more swings, and a ladder — all while suspended above the ground with nothing to hold onto that didn't also move). But as everyone else took their turn, I stepped in line, truly not wanting to be there. But damned if I would be the only one who didn't try.
I got through it. I didn't fall. I was shaking from head to toe afterward, but my grin will tell you how happy I was to have escaped my own doubts.
Scotland
Gretna Green, Hadrian's Wall, Edinburgh, St. Andrews, Scottish Highlands - Isle of Skye, West Highlands - Stirling, Glasgow
Scotland was the one country on this trip I hadn't yet visited. My hopes were high. On our way to Edinburgh, we stopped at Gretna Green (for a wedding) and Hadrian's Wall (where I dressed up like Jon Snow). The countryside was unreal. Growing up in the Pacific Northwest, we tend to take our luscious wilderness for granted, but seeing how another country does something similar, with its own beautiful point of view on green, rolling hills, and calming pastures, dissipated any sense of jaded boredom.
Arriving in Edinburgh was a surreal experience. I didn't know to expect an entire city that looked as if an author's imagination had come to life — as if someone without boundaries defining what makes something beautiful crafted the architecture and style and energy.
We began our tour at Edinburgh Castle (the first truly frigid day of the trip), where I had a view of the school that inspired Hogwarts. I felt like all of Edinburgh had been traced by J.K. Rowling's pen. And I understood why, because standing on the castle grounds, with the wind whipping us around, the city looked magical. We spent the rest of the afternoon wandering, me leading the group to all the Harry Potter spots — like the colorful neighborhood rumored to have inspired Diagon Alley. And of course, the Elephant House, where J.K. Rowling created a worldwide cultural movement with some paper and a pen, while overlooking a cemetery. Kind of creepy, J.K.
After shoving a deep-fried Mars bar in my face, and rubbing the nose of Greyfriars Bobby for luck, I had officially fallen in love with Scotland, not yet knowing the incredible experiences that were still ahead of me.
Making our way to the Scottish Highlands, we stopped in Saint Andrews, the birthplace of golf. I opted for a few hours at Saint Andrews Links, to hit some balls on the driving range, versus exploring the town (where Will and Kate attended college, mind you). But taking a swing on arguably the most beautiful course in the world on an unseasonably warm day, wasn't an opportunity I could ignore. I may have whiffed it twice (out of 25 hits, so I'm a little proud), and left with a sore back, but I was reminded yet again of the things I could be doing — and enjoying — at home, if only I stepped out of my usual routine.
That day, we also took a cruise around Loch Ness — no Nessie, but plenty of freezing wind — until everything became still, and warm enough, for a few daring souls to jump into the water. Spoiler alert: I was not one of them. Ironically, the reason I skipped the plunge was because I didn't want to get sick (which I would get in Ireland). Another lesson about not missing chances? Maybe. But I was also perfectly content that day to take a shot of whiskey while watching people climb out of the water, their skin prickled with goosebumps.
Our night was spent in an Inverness "hotel," seemingly conjured from stories about Scotland. It was in the middle of beautiful nowhere, covered in tartan, and freezing cold. But it had a bar. And we spent our evening together as a group playing trivia. It was such a peaceful and relaxing night, compared to our nights out, and I felt so thankful to have already formed such great friendships. And for the chance to go to bed at 10 p.m.
By day 7, I felt like a new person. How cliché is that? Did that cheese just make your stomach clench? Mine too. But my mind was free from my usual worries, and I felt light. Simply, I was happy. Happier than I had been, and could recently remember ever being.
Continuing our journey through the stunning Highlands, we paused for a few hours at Scotland's iconic gem: the Eilean Donan Castle. While folks went inside to tour the castle, I stayed outside, alone. For an hour and a half, I walked a half circle around the grounds in the rain, trying to capture every angle to memory. It's hauntingly stunning. Just look at it. In all my travels, I had never seen anything that compelled my attention the way this place drew mine. Between the mountainous background, inky black water, contrasting terrain, and dewy light, it felt like a manifestation of my imagination.
I didn't yet know how special this day would become.
We stayed in the sleepy seaside town of Oban, and Contiki had planned a night of Scottish dancing for us. After being bagpiped down the street (and drawing the attention of passersby) to our venue, we were greeted with a private concert of traditional Scottish music, before being led through a series of partner dances. Imagine American line dancing, with much better music. None of us were shy. We didn't worry about how we looked. Embarrassment and social protocol didn't get in the way. We all just danced, flailing around between fits of laughter and failing to keep up with the beat. We had known each other for a week, and were as comfortable around each other as if it had been years. This night is the epitome of what group travel is all about — a shared, new experience in an unfamiliar place transforms strangers into friends.
It's a night I'll never forget, and arguably my favorite...ever. I know — cheeeesy.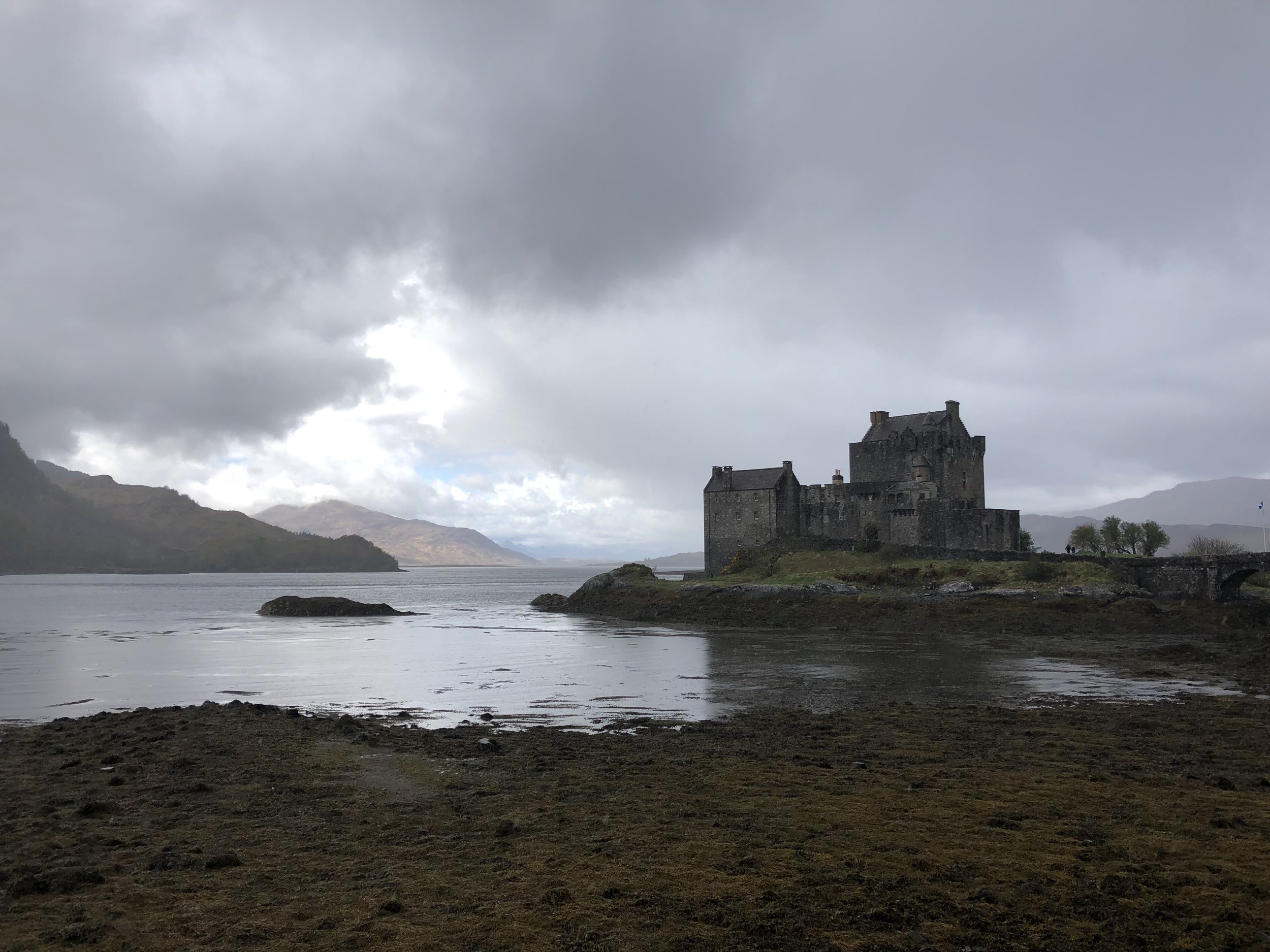 Ireland
Kilkenny, Cork, Blarney, Cliffs of Moher, Galway, Aran Islands, Londonderry, Giant's Causeway, Belfast, Dublin
In Ireland, I made one of my few travel returns (the first being London, where we met to kick off the tour). I had been to Kilkenny on my last trip to Ireland in 2015. How pretentious does that sound? Well, I know travel is a privilege, which is why I treated my afternoon there as if it were my first, (shakily) jumping on a bike and touring the place after 3 years apart. We lucked out again with the weather, and just as I got used to the sensation of pedaling my weight around, it was over. We threw pizza into our mouths, and I enjoyed every last minute of the sun before getting back onto the coach to Cork for a tour of the Jameson distillery. Fun fact: I like whiskey so long as it's mixed with ginger beer and lime. I had forced whiskey, straight up, into my belly when in Scotland, because themes are important. The whiskey in Ireland was better, entirely because it was masked by other flavors.
In Blarney, we made out with a really old rock. My body nearly betrayed me again, witnessing the required back bend over an opening 37 feet (about 3 stories) high (which FEELS LIKE A LOT MORE WHEN YOU'RE UP THERE, OK?) that was required to plant one on the damn thing. People love to tell me that's when I got sick. I put hand sanitizer on my lips before and after the smooch, which I like to tell them. But kissing the stone was not the highlight of that day. Instead, those expansive grounds took the honor. My (contaminated) mouth was permanently fixed into a smile, taking in the wild flowers and greenery. I only wish we had more time to explore.
The Cliffs of Moher were waiting, though, determined to one-up every other incredible experience. Have you ever had those moments where you think, "I can't believe this is happening"? Mine usually come in the worst moments, like when I get told I have another cavity. Or I realize I've been wearing my underwear inside-out all day. Staring out across the Cliffs, which are unfathomably symmetrical (the world can really be a showoff), I couldn't believe what I was seeing. That I was in Ireland. That it was this serene. And that I was this one tiny person in this great, big world full of boundless beauty, just begging to be admired. Well, I'm a great admirer, world. Pick me. Choose me. Love me.
Galway. Oh, Galway. I can't remember much from that first night beyond feeling sick and being scared of what was to come. But you're not reading this painfully long post to hear about me being sick. So let's just assume from this sentence forward, I was sick (and would be until 2 weeks after I got home) but refused to be miserable.
Those of us brave enough to venture to the Aran Islands via a ferry the next morning were welcomed with rain, wind, and cold. I had heard how beautiful this place was. And I managed to find that beauty. Some of it. In between the cruel weather that we willingly rode our bikes in for hours. Expectations — you simply can't have them when you travel. Because like is true with most of life, you have very limited control over the things around you. I couldn't control that I was sick. I couldn't control that it was raining pellets. But, I could control whether or not I made the most of it — to see most of it — and have an experience others wouldn't get to. Would those who experienced this place in a balmy 70 degrees and sunshine be jealous of my experience? Likely not. But is their story as great when they recount it? Well, maybe. But, could they ever say they rode a bike in horrible weather, feeling as though they were breathing through a snorkel, so soaking wet their jeans refused to separate from their legs, and unable to warm up until several hours later when they finally showered all the mud off their skin? NO. NO. NO. So, there.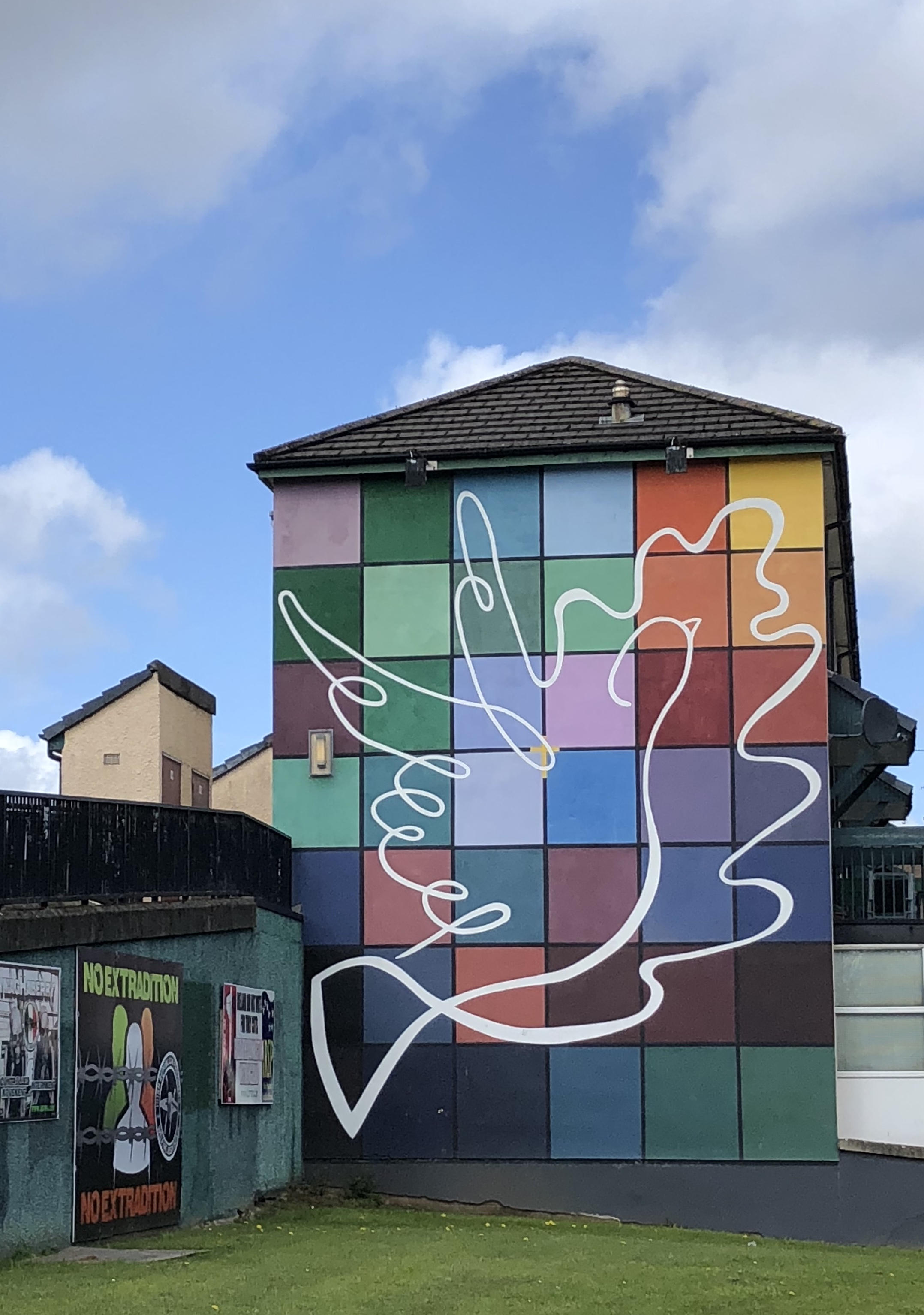 The shifty weather followed for a few days. But some places are immune to such trivialities.
Like, the Giant's Causeway.
I live a structured life. I'm an organized (some might say, anxious) person, researching every angle of something before making a decision. Yes, it is annoying! How did you know? Then, I travel. When I do, I often spend no more than a cursory glance deciding what I want to do in a new city. I prefer to wander, to stumble — to have no expectations.
Ireland's Giant's Causeway was my stumble this trip. I had never heard of it. Didn't even pay attention to it on the itinerary. Our coach stopped, we got off, and I started walking. As I descended down a bend, the story started to unfold, like Mother Earth knew exactly what she was doing. Bit by bit, things came into view. The view came into view. And it was everywhere. Literally surrounding me. I saw this intricate, inexact rock structure. And blue, crashing waves. And mountains. And natural shapes going in every direction. It was windy and rainy and dazzling. I didn't know where to focus my attention. So I just stood in silence and turned and climbed and then took sad photos that will never express the glory.
This place is the exact reason why I prefer to travel ad-lib. Because when you come across something so naturally beautiful, with no idea you're about to find it, it's one of those happy moments that makes your breath catch — where your lack of assumptions leads to an experience that's a catalyst for change. You can't get there if you already have an idea of what it is you're searching for. Am I giving you more cheese? Maybe, but if you don't feel a little gooey after an adventure — a little re-invigorated about the real purpose of life — then maybe you're not surprising yourself.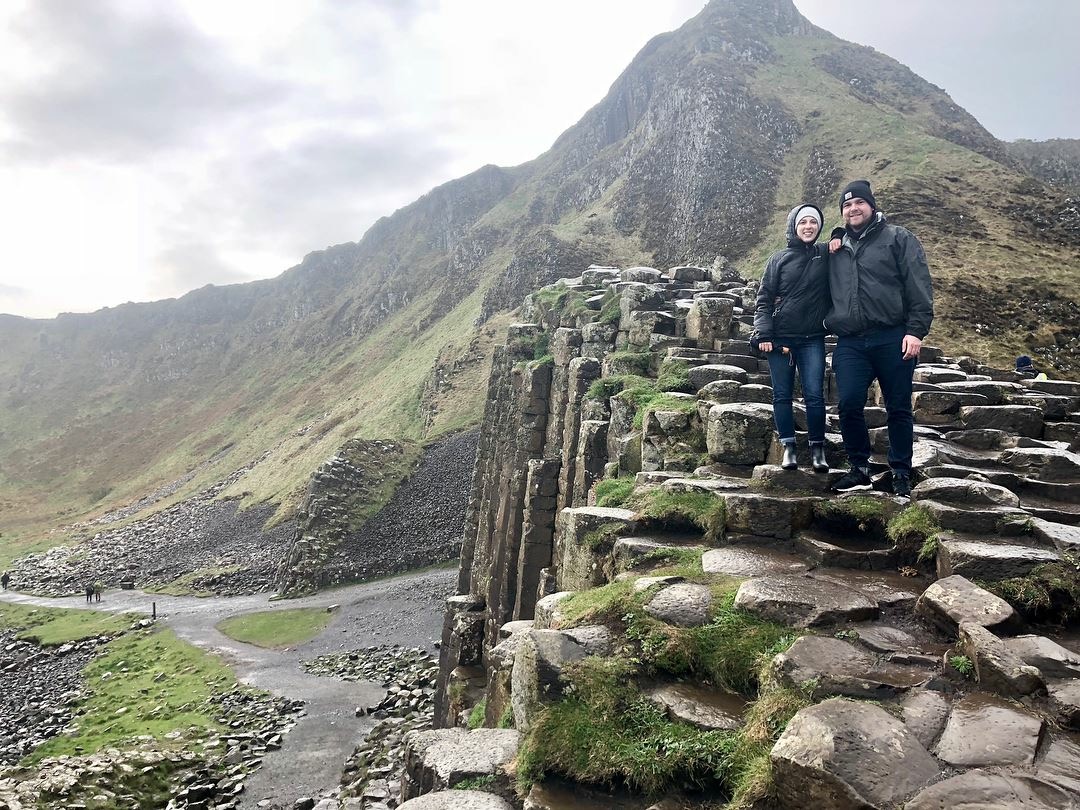 When we ended our trip in Dublin, another place I had been before (she says knowing she sounds like an asshole), the sadness started to creep in. Even though a few of us, ahem, the OGs, would continue on to London the next day to officially end there, I felt melancholy the whole day, internally counting down the hours until I had to return home. By our farewell dinner that night, I had plastered on a smile and tried not to let the dread ruin the last night. Lucky for me, it would've been impossible anyway.
It was a private dinner, a private concert, and a private show, all in one. And after dodging the high kicks of 4 impressive Irish dancers, I was dragged on stage, where I was literally spun off my feet by an ambitious dancer, who clearly had way too much confidence in my skills. Mortified by my inability to stay on my feet (and hearing the intensity of the laughter from everyone who witnessed that), I was mostly happy I hadn't passed out. Please remember, I was still sick! Only when I landed in the U.S. would I learn I had bronchitis. Thus, the not breathing. And it will forever be my excuse for turning into a half-conscious, rag-tag of limbs that night, and not the poised zumba dancer I know I am.
Do I relish opportunities to embarrass myself? Absolutely not. Do I regret not doing things I sort of, kind of wanted to do in the moment? Absolutely. And that's why I believe in saying "yes" when traveling. Because there are so many excuses, so many reasons, to say no in our every-day lives. I'm tired. I'm broke. I'm too busy.
What kind of excuse can hold weight against, "You may never have this chance again"? And isn't it silly that it takes us — or maybe just me — a journey across the world to remember that, when the same can be said about every day we're given?
This trip was 3 weeks of discovering the level of happiness I'm capable of feeling. This trip was a successful social experiment in the bonds we can form with perfect strangers. This trip was an unforgettable reminder that I can do things I'm too scared to do.
This trip was a journey. And a damn good one.